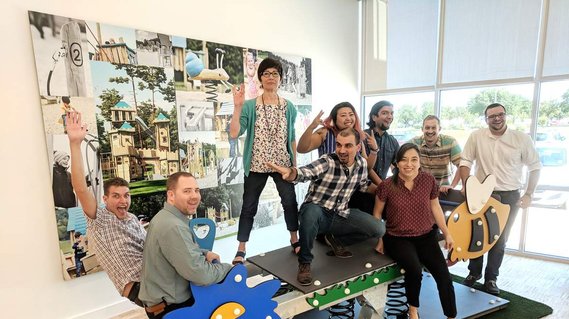 Team Building
Having 20+ years of production experience has been very useful in recruiting and hiring exceptional talent. I know the 3D creative space very well and am able to avoid the costs of using recruiters to staff teams.
Also, surviving in the trenches taught me what inspires workers and what doesn't. I have strong credibility with creatives because I have walked the walk. Building a team culture that employees value brings huge rewards to a company and to its bottom line. I'm proud to say my teams have this stickyness.
I have authored career path documents that map out different disciplines over time. More importantly, I evangelized them to the Group CEO and it was approved! Once I got that in place I was able to shift employee's jobs to careers. That made a big difference.
Marketing Specialties:
Content planning and generation for marketing channels (website, SMM, Youtube)
Targeted Email campaigns with follow up data analysis about click throughs. Creating ROI reports on campaigns
Creating pre-roll and post-roll videos for targeted audience placement.
Designing, planning and launching campaigns that help generate unique leads
Business Intelligence
Nothing helps a business justification better than solid facts. Over the past four years I've polished my skills at collecting data and visualizing it to help support business decisions.
The first step was setting up a CRM system that helps me capture the data. I have experience with Microsoft Dynamics, Google Sheets, Slack, Trello, Quickbase and Formstack.
I write a lot of custom scripts that pull data from many different places and create custom dashboards that upper management can review whenever they want to know status.
Below are some examples of data that have helped me communicate to upper management.
It's about them...
The simple things add up. In this age of companies whittling down benefits and demanding more of employees, the simple things mean more than ever. I want my reports to feel they have someone that is pulling for them during management meetings. They need to know their interests are being advanced.